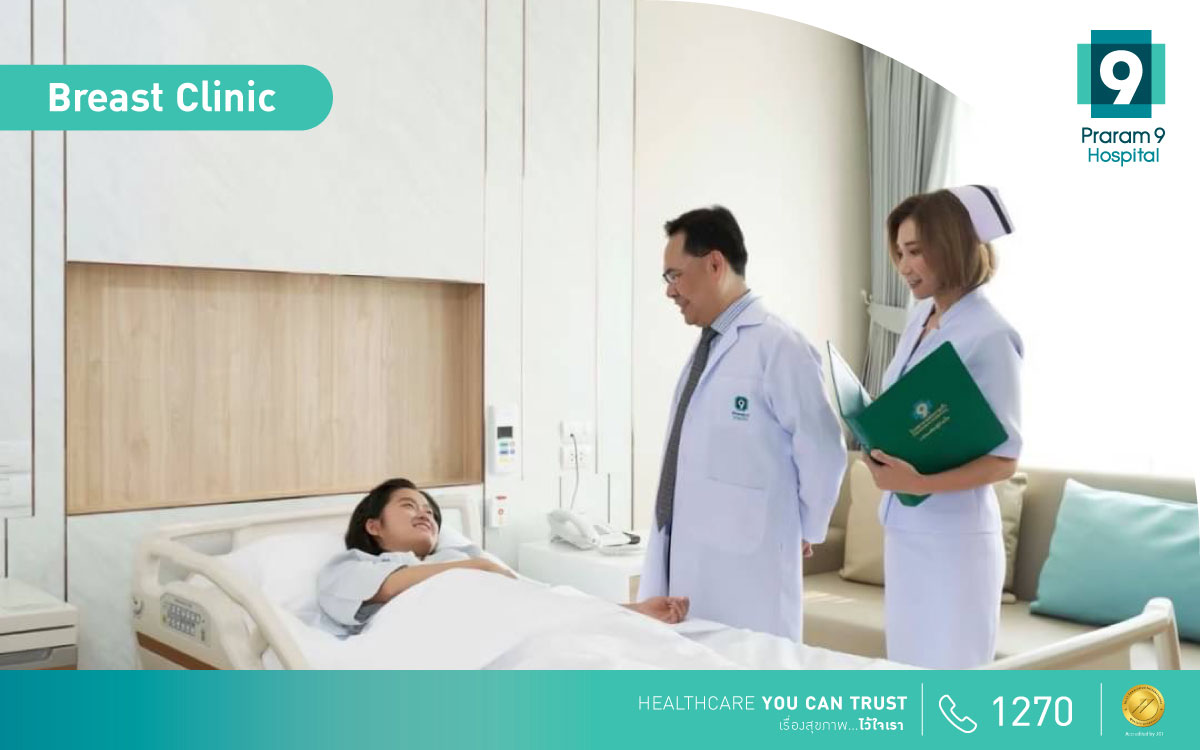 Today more women are taking care of their health with breast self-exam which can help to discover lumps of cancer or by using mammography and ultrasound to detect small lumps of breast cancer that cannot be felt by hand. This can help to diagnose cancer in its early stage.
Breast cancer is a common disease at the present time which is often found from the age of 35-45. Furthermore, mortality rates of Thai women are among the highest so early diagnosis will help to completely cure them of the disease. Crucially, diagnosis of breast cancer and the risk factors are the most important objectives. For this reason, Praram 9 hospital is fully equipped with up-to-date tools and technologies as well as teams of physicians in various fields with experience in treating the disease. This enables full services including counseling and breast cancer diagnosis to help patients live a quality life, maintain their appearances and live in the society like everyone else.
Specialist teams of physicians at the Breast Center, Praram 9 hospital
- Specialist team of breast cancer surgeons, offers breast surgery and enhancement
- Specialist team of breast examination, particularly using mammography, ultrasound and MRI
- Cancer physicians with expertise in chemotherapy
- Specialist physicians in pain management
- Psychiatrists who can provide counseling for patients worrying about the disease and treatment
1. Digital mammography and breast ultrasound Is digital mammography alone enough to diagnose breast cancer? Digital mammography alone is not enough to diagnose breast cancer due to several other factors that may reduce accuracy such as the densities of the breast, small tissues or lobes, traces of disease on the nipples or the surrounding area, or leakage of blood or liquids from the nipples. Therefore, specialist physicians and ultrasound will help to improve the diagnosis of breast abnormalities.

2. Core needle biopsy of the breast before surgery If any abnormal lump is detected, a core needle biopsy may be carried out for pathology tests before surgery as it can be easily done and does not require an overnight stay at the hospital. The incision is also small with little pain and produces accurate diagnosis. If the lump is small or cannot be accurately felt by hand, radiology equipment such as ultrasound may be used to locate the disease which helps to precisely target the tissue.
Today, technological advancements in breast diagnosis and the promotion of breast self-exam help to diagnose breast cancer in its early stages better than before, improving chances of survival. Consequently, surgery has changed from merely to preserve life to also consider the quality of life with emphasis on appearances. Techniques for breast enhancements after surgery are also available.

1. Breast reconstruction from latissimus dorsi muscles through latissimus dorsi flap. This technique is safe with few complications and only requires 3 nights of recovery at the hospital. The reconstructed breast looks like a real breast both in terms of mass and shape, which makes this surgery become increasingly popular.

2. Whole breast reconstruction from latissimus dorsi muscles and subcutaneous tissues (extended LD flap technique)

3. Breast enhancement or reconstruction surgery using the subcutaneous fat and the rectus abdominus muscles (Transverse Rectus Abdominis Musculocutaneous flap or TRAM flap)
To sum up, these techniques utilize the patient's own tissues for breast reconstruction which helps to reduce costs and bolster self-confidence, leading to a better quality of life.
The teams of physicians and personnel at Praram 9 hospital realize the importance of providing knowledge and advice, risk identification, breast cancer diagnosis as well as having teams of specialist physicians to take care of the patients in every case. These all facilitate convenience, safety, efficiency as well as ensure that the patients receive prompt treatments and can return to live normal lives like everyone else.
1. Dr. Prakasit Chirappapha
2. Dr. Panuwat Lertsithichai
3. Dr. Kasama Kantornvichaiwat
4. Dr. Chayanoot Rattadilok
5. Dr. Monchai Leesombatpaiboon
6. Dr. Watoo Vassanasiri
7. Dr. Piyawan Kensakoo
8. Dr. Thongchai Sukarayothin
9. Dr. Kampol Ratchaworapong
10. Dr. Somdej Jaroensupperch
11. Dr. Burin Wasinrat
12. Dr. Thanapong Wonwiriyakul
13. Dr. Ronnarat Suvikapakornkul
14. Dr. Panya Taweebworadet
Breast intervention physicians
1. Dr. Mantana Treemanka
2. Dr. Sarantorn Larbkitichote
3. Dr. Wasiyapa Pattanajarid
4. Dr. Kanitha Nimitkool
5. Dr. Banchongsak Wetchasart
6. Dr. Orapin Charnsanti
Monday – Friday : 8:30 - 20:00
Saturday – Sunday : 8:00 - 17:00
Specialized Medical Center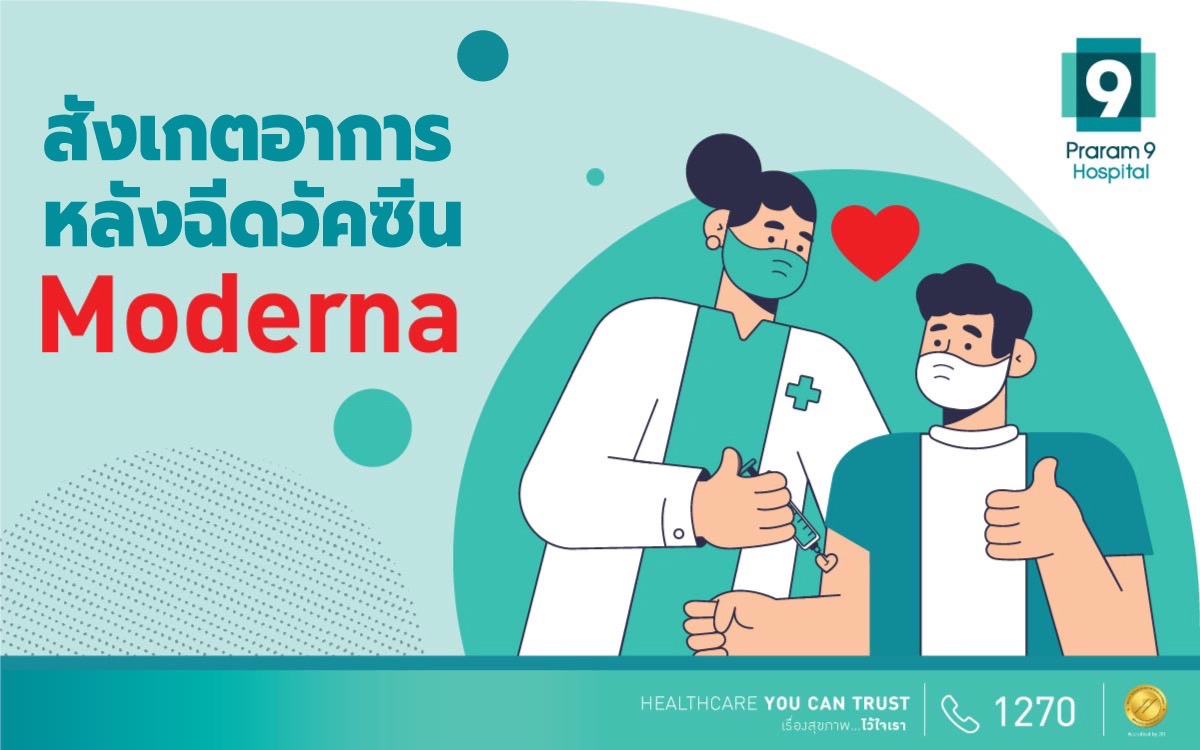 1. General or mild adverse symptoms (In general, these symptoms usually resolve within 2 days) Low grade fever Headache Muscle, joint or general aches Fatigue, lack of energy and general malaise Mild nausea or vomiting Pain, swelling, redness, or a rash or itching at the injection site Mild rash 2. Adverse reactions that require immediate medical attention (If you have these symptoms, you should see a doctor immediately or call 1669 for emergency medical services)   Examples of a severe allergic reaction or serious side effects are as follows: High fever, chills, rigors Severe headache Chest tightness, shortness of breath,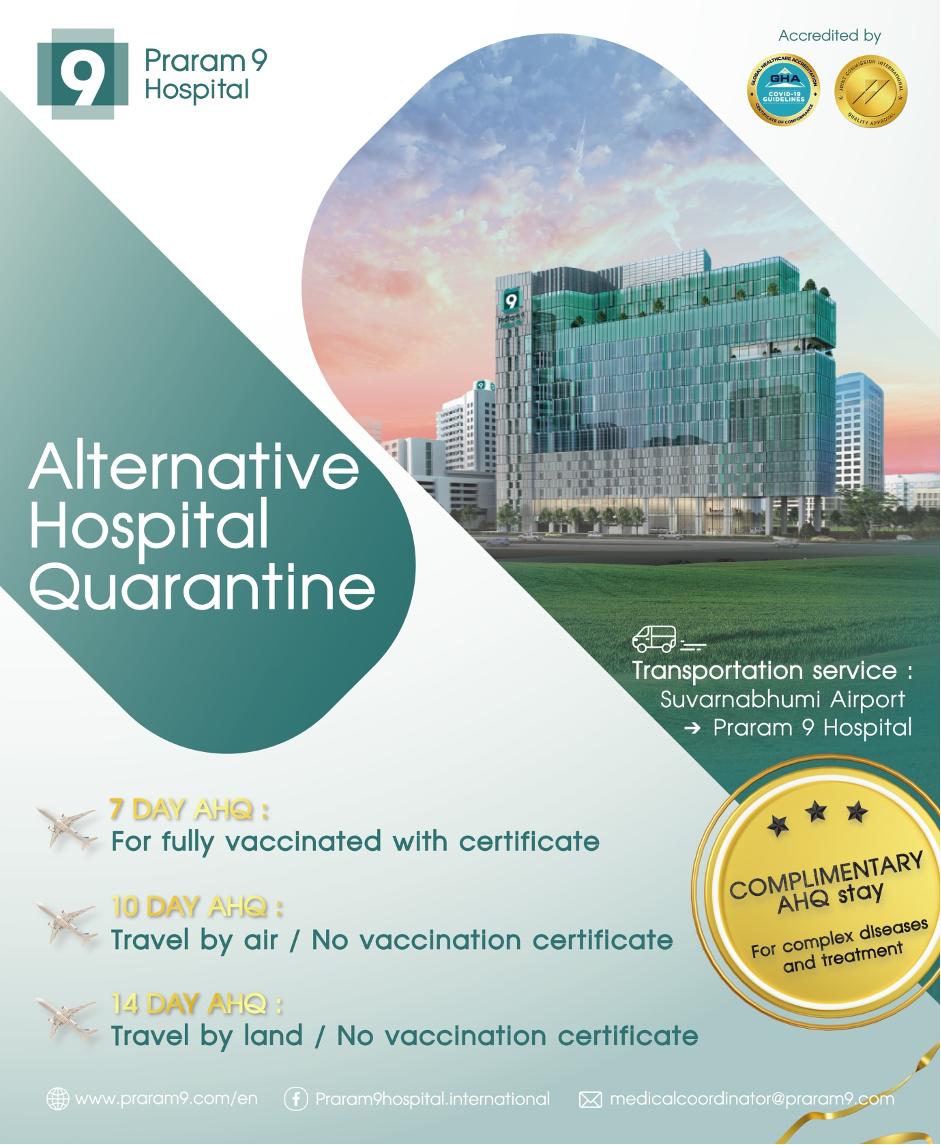 Note: All AHQ stays are inclusive of 2 RT-PCR tests done on the first day and day before discharge. Praram 9 hospital has achieved the Global Healthcare Accreditation (GHA) Certification of Conformance with COVID-19 Guidelines, ensuring your health and safety throughout your stay. For more information and prices, please email [email protected]kj5xv6gn.p.runcloud.link or message us on Facebook at m.me/praram9hospital.international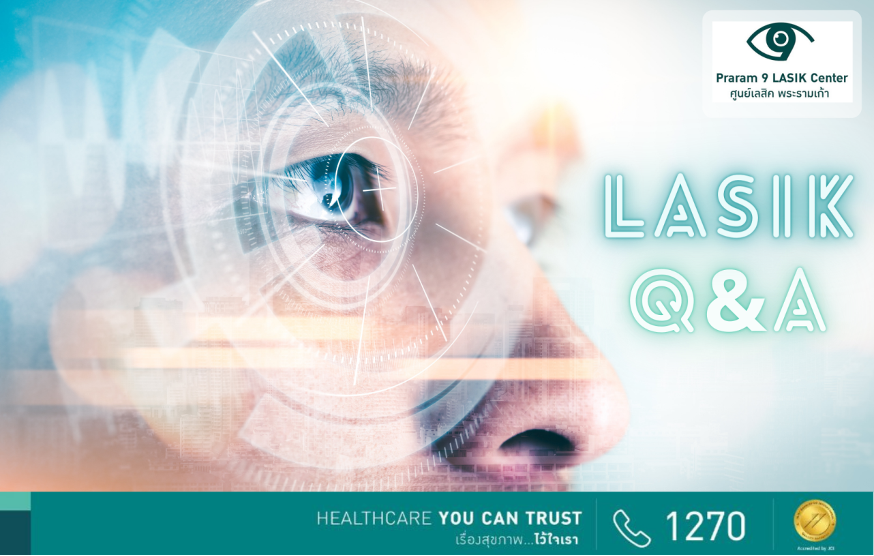 Being able to see the world clearly without the need for eyeglasses or contact lenses is the wish of many. LASIK has been constantly popular amongst those who want to be free from glasses or contact lenses, as the technology continues to develop with modern techniques such as PRK, LASIK, FemtoLASIK, ReLEx SMILE, etc., allowing you to choose from a wide range of treatments from LASIK. But which technique is best for us? What are the selection criteria for each technique? These are just some of the questions you might have, and we have compiled a list of Q&As for those