Vaccination and Travel Medicine Clinic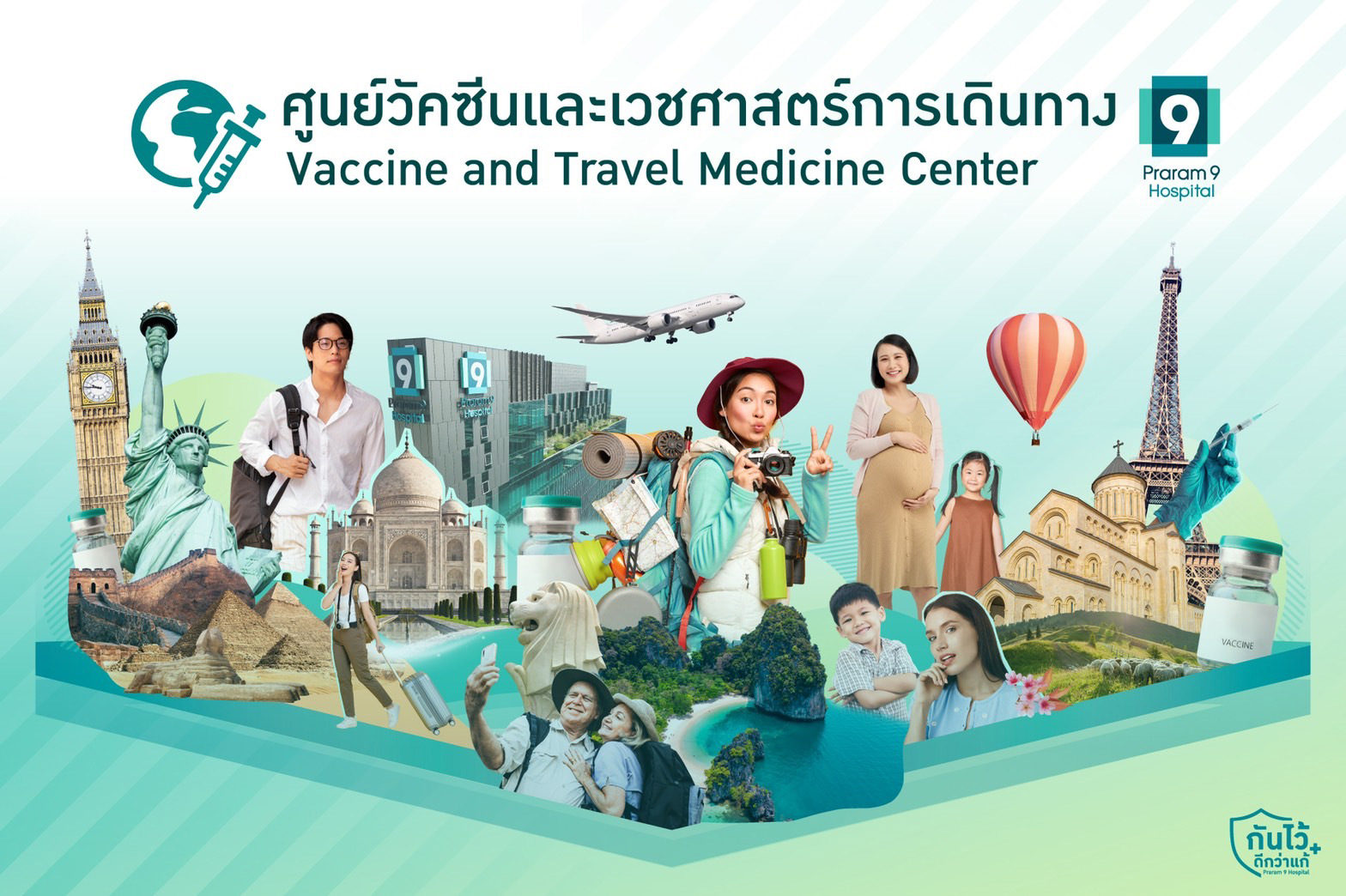 Prevention is better than cure
Praram 9's Vaccination Clinic offers a wide range of vaccination and personalized consultation to help make sure that you are protected from the most common diseases. Vaccines are an important disease prevention tool and can not only reduce the chance of getting infected, but also the severity of diseases in people of all ages. Vaccinations are especially important in the elderly, including those with congenital diseases or reduced immunity. Those engaged in certain hazardous occupations or travelling abroad to endemic countries are also advised to get the proper vaccinations according to their destination. Most of the vaccines used in modern day are safe and have few side-effects.
Getting sick while traveling can ruin your trip
While the increase in international travelling has allowed for increased connectivity and cultural exchanges, this also comes with the risk of spreading diseases and potential pandemics. The COVID-19 pandemic in particular has highlighted the importance of getting vaccinations and the need for disease control. Praram 9 hospital has thus established the vaccination and travel clinic to help ensure that our patients are safe and healthy wherever they go. We offer a range of personalized health check up, tailored vaccination consultation and counseling services as well as vaccination certification and services prior to traveling abroad.
Vaccination and certification for
– Adolescent and adult aged 15 years and over
– Elderly
– Immunocompromised people
– Travelers


Counseling for any purpose
– Thai and international travelers for short and long-term travelers
– Workers and business travelers
– Students studying aboard
– Humanitarian aid workers
– Pilgrimages
– Air crews


Prophylaxis medication for
– Malaria
– High altitude illness


Pre and post-travel health check- up
Available vaccines and medications
Vaccines for adolescents and adults
Influenza

Tdap, Td

Tdap+IPV

Varicellazoster

MMR

Hepatitis A

Hepatitis B

Hepatitis A and B combination

HPV4, HPV9

PCV13, PPSV23

Herpes Zoster

Rabies

Dengue
Japanese encephalitis

Typhoid

Meningococcal disease

Medications to prevent anaphylaxis and severe vaccination side-effects

Malaria Prophylaxis medications
Make an appointment in advance through the department's Call Center or LINE Official: @Pr9vaccinecenter or click https://lin.ee/jzltRy9 for ease of service
If you have a past vaccination history, please bring it on the day of service to provide information for the doctor and for best care.
If you have travel plans, please bring it on the day of service.
After vaccination, it is recommended to observe the side effects of the vaccine 15-30 minutes in the hospital.
** Consult before traveling,
please make an appointment in advance.**
Specialized Medical Center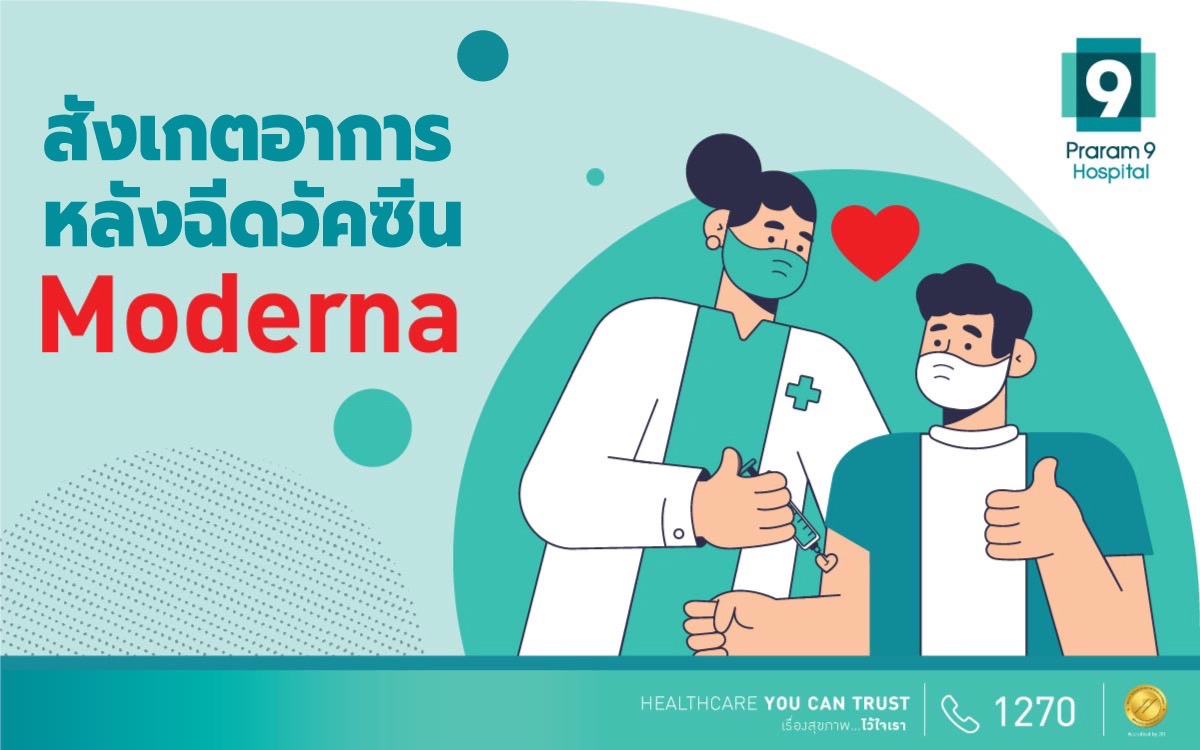 1. General or mild adverse symptoms (In general, these symptoms usually resolve within 2 days) Low grade fever Headache Muscle, joint or general aches Fatigue, lack of energy and general malaise Mild nausea or vomiting Pain, swelling, redness, or a rash or itching at the injection site Mild rash 2. Adverse reactions that require immediate medical attention (If you have these symptoms, you should see a doctor immediately or call 1669 for emergency medical services)   Examples of a severe allergic reaction or serious side effects are as follows: High fever, chills, rigors Severe headache Chest tightness, shortness of breath,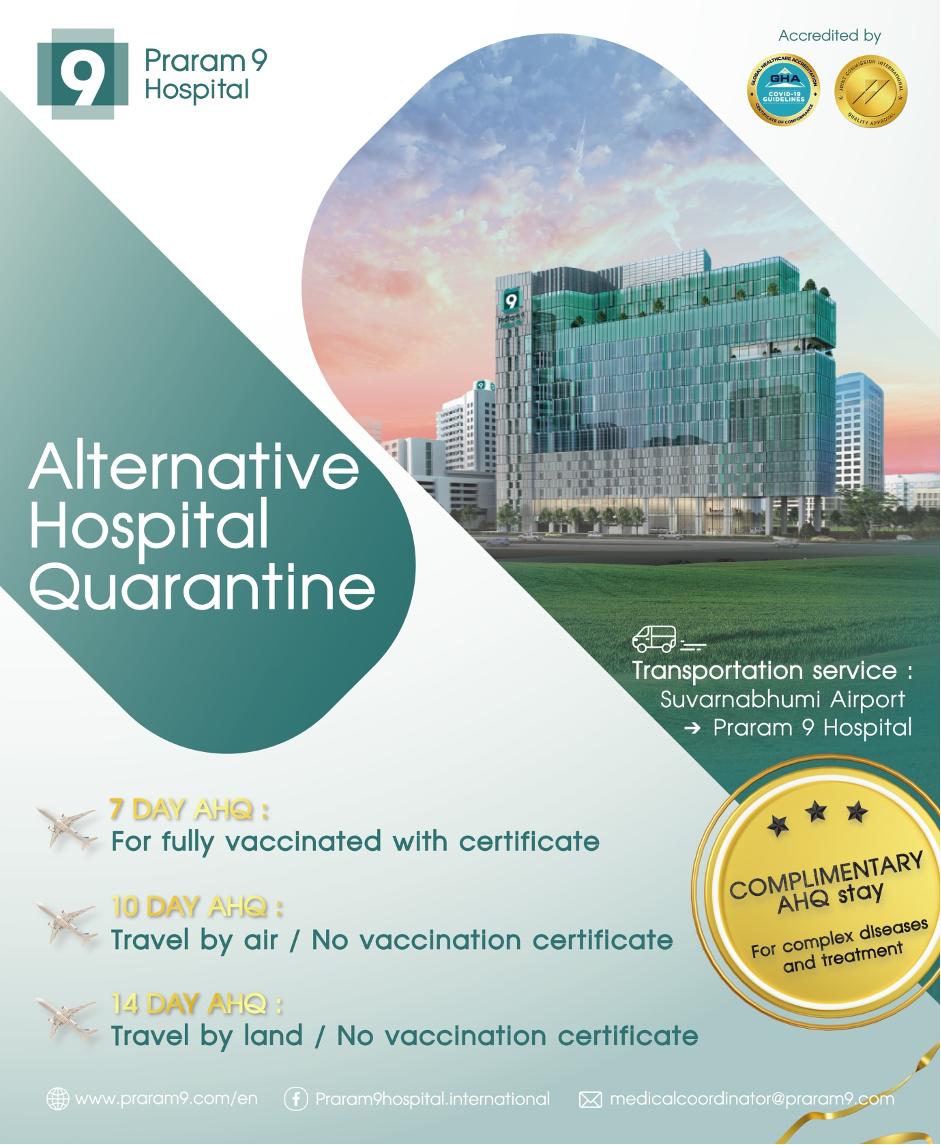 Note: All AHQ stays are inclusive of 2 RT-PCR tests done on the first day and day before discharge. Praram 9 hospital has achieved the Global Healthcare Accreditation (GHA) Certification of Conformance with COVID-19 Guidelines, ensuring your health and safety throughout your stay. For more information and prices, please email [email protected]p.runcloud.link or message us on Facebook at m.me/praram9hospital.international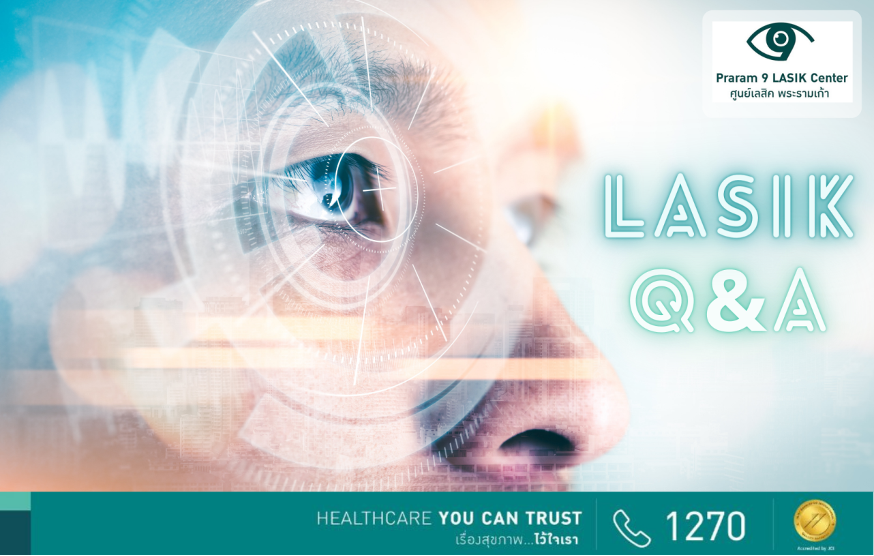 Being able to see the world clearly without the need for eyeglasses or contact lenses is the wish of many. LASIK has been constantly popular amongst those who want to be free from glasses or contact lenses, as the technology continues to develop with modern techniques such as PRK, LASIK, FemtoLASIK, ReLEx SMILE, etc., allowing you to choose from a wide range of treatments from LASIK. But which technique is best for us? What are the selection criteria for each technique? These are just some of the questions you might have, and we have compiled a list of Q&As for those