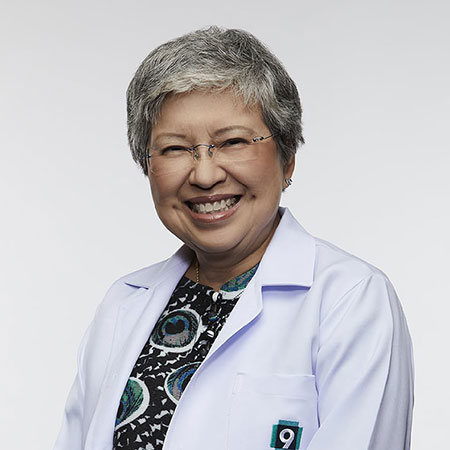 รศ.พญ.พงศ์ภารดี เจาฑะเกษตริน
[B] สถาบันรักษาความปวดและสร้างเสริมความเข้มแข็ง (Fix & Fit)
ผู้เชี่ยวชาญสาขาวิสัญญีวิทยา-ระงับความปวด
แพทยศาสตร์บัณฑิต รพ.ศิริราชพยาบาล มหาวิทยาลัยมหิดล ปี 2520
สาขาวิสัญญีวิทยา รพ.ศิริราชพยาบาล มหาวิทยาลัยมหิดล ปี 2523
การระงับการปวด 2552
Pain suppression 2009
Fellow of the Faculty of Pain Medicine, Australian and New Zealand College of Anaesthetists, 2011.
Fellowship in Chronic Pain Management, Multidisciplinary Pain Center, University of Washington, Seat.
Clinical Fellow in Pain and Interventional Pain Management, Guy's Hospital, United Kingdom, London.
แขนงที่สนใจเป็นพิเศษ
Interventional Pain Management
Neuropathic Pain
Terminal Cancer Pain
ตำแหน่งทางวิชาการ
ตำแหน่งสมาคม/ชมรม
สมาชิกกิตติมศักดิ์ ของสมาคม International Association for Study of Pain (IASP) พ.ศ.2554 ถึงปัจจุบัน
Advisory Board member of the Thai Association for the study of pain (TASP) พ.ศ.2533 ถึงปัจจุบัน
งานวิจัยตีพิมพ์ลงในวารสาร/ ตำราที่แต่ง
Sathornkit S., Chaudakshetrin P., Roles of Anesthetist in the management of head injuries. The Journal of Thai Anesthesiology.1979;6;18-30
Tritrakarn T., Chaudakshetrin P., Complication of new technique of anesthesia for micro-laryngeal surgery. The Journal of Thai Anesthesiology.1981; 8: 1-8
Opasanon P., Chauwanayothin S.,Chaudakshetrin P. Depth of skin to epidural space in thais The Journal of Thai Anesthesiology. 1984; 11:208-26.
Chaudakshetrin P.,Suwannakitti L., Transcutaneous Electrical nerve Stimulator. The Journal of Thai Anesthesiology. 1985; 12: 90-104.
Suwannakitti L., Chaudakshetrin P.Acupuncture for chronic low back pain The journal of Thai Anesthesiology. 1985;12: 173-81.
Chaudakshetrin P.,Suwannakitti L.,Chareonthaitawee P.Intravenous Regional Guanethindine block: A new relife for causalgia. The journal of Thai Anesthesiology. 1986;13:112-5.
Chaudakshetrin P. Intravenous Regional Guanethindine block: A new relief for causalgia. The Journal of Thai Anesthesiology 13: 112-5, 1986
Wattanakongtong L., Chaudakshetrin P. Chartbhuphaporn R. Continuous subcutaneous infusion of morphin for post-operative pain relief: A comparison with conventional method. The Journal of Thail Anesthesiology 1987:14:57-62
Chaudakshetrin P., Bunnag C., Sarasombat S., Acupuncture treatment in perennial rhinitis. Siriraj hosp Gaz 1989; 4 (9)488-92
Chaudakshetrin P. Phanchareonworakul K., Puangwarin N., the Out-patient Survey at Siriraj Hospital. Siriraj Hosp Gaz 1990;42:659-64
Chaudakshetrin P.,Suwannakitti L.,Rashatamukayanant W., Srirojanakul W., Kururattanapun S. A Retrospective Study of Cancer Pain Management in Siriraj Hospital. The Thail Journal of Anesthesiology 1990; 2:80-7
Chaudakshetrin P.Thailand: Status of Cancer Pain and Palliative Care. J Papin Symp Management 1993:8 ;434-6
Pusuwan P, Chaudakshetrin P.,Verawat N.,et al. Efficacy and Toxicity of Sumarium Radiopharmaceuticals in the palliative treatment of painful skeketsl metastases in Thailand.. THai Nuclear Medicine Newslatter 1998; 4,1: 16-23.
Pongparadee Chaudakshetrin. Penkae Ketuman Anesthetic Pain management in Siriraj Hostpital: a retrospective review. J Med Assoc Thai 2002; 85(suppl 3) S858-S868.
Chaudakshetrin P. Ketuman P. Anesthetic Pain Management in Siriraj Hospital:a retrospective review. J Med Assoc THai 2002 Sep; 85 Suppl 3: S858-65.
Caraceni A, Martini C, Zecca E, Portenoy RK, Ashby MA, Hawson G, Jackson KA, Lickiss N, Muirden N, Pisasale M, Moulin D, Schulz VN, Rico Paza MA, Serrano JA, Andersen H, Henriksen HT, Mejholm l,Sjogren P, Heiskanen T, Kalso E, Pere P, Poyhia R, Vuorinen E, Tigerstedt l, Ruismaki P, Bertolino M, Larue F, Ranchere JY, Hege- Scheuing G, Bowdelr L, Helbing F, Kostner E, Radbruch L, Kastrinaki K, Shah S, Vijayaram S, Sharma KS, Devi PS, Jain PN, Ramamami Pv, Beny A, Brunelli C, Maltoni M, Mercadante S, Plancart R, Schug S, Engstrand P, Ovalle AF, Wang X, Alves MF, Abrunhosa MR, Sun WZ, Zhang L, Gazizov A, Vaisman M, Rudoy S, Gomez Sancho M, Vila P, Trelis J, Chaudakshetrin P.Koh ML, Van Dongen RT, Vielvoye-Kerkmeer A, Boswell MV, Elliott T, Hargus E, Lutz L; Working Group of an IASP Task Force on Cancer Pain. Breakthrough pain characteristics and syndromes in patients with cancer pain. An International survey. Palliat Med.2004 Apr; 18(3):177-83.
Chaudakshetrin P.A Survey of Petients with Neurophathic Pain at Sirisaj Pain Clinic. J Med Assoc Thai 2006:354-61.
Chaudakshetrin P., Prateepavanich P., Chira-Adisai W., Tassanawipas W., Leechavengvongs S., Kitisompra yoonkul W. Croos- cultural adaptation to the Thai language of the neuropathic pain diagnostic questionnair (DN4). J Med Assoc Thai 2007; 90(9): 1860-1865
Chaudakshetrin P. validation of the Thai Version of Brief Pain Inventory(BPI-T) in Cancer Patients. J Med Assoc Thai 2009; 92(1): 34-40
Nizar AJ., Prateepavanich P. Chaudakshetrin P., Management of "Frozen shoulder" Made Easy; Critical Evaluation on Myofascial Pain Syndrome and Conventional Orthopaedic Approaches. International Medical Journal Vol 17, No.3,pp197-204. September 2010
Nizar AJ., Prateepavanich P. Chaudakshetrin P.,Atypical Chest Pain from Myofascial Pain Syndrome of Subscapularis muscle. Journal of musculoskeletal Pain; 18(2),201:173-9
Raymond Rosales, Guy Bashford, Pongparada Chaudakshetrin, Unichol Kim, Doo-lk Lee, Carina Ching-Fan Li, Lucas Meliala, Setsuro Ogawa, Ramani Vijayan, Shuu-Jiun Wang, Alex Sow-Nam Yeo and Miroslav Backonja. Developing Neuropathic Pain Treatment Guideness For Asia Pacific. Letters to the editor. Pain Practice2009(9);4:322-323
P Euasobhon, P Chaudakshetrin, P Rushatamukayanunt, S Mandee, C Chinthammit. Characterization of treatment Srategied for Neuropathic Pain: Evidence From A Pain Specialist Setting In Thailand. Value Health: International Socialty for Pharamacoeconomics and Outcomes Research. 2010; 13(7) 1524-4733
Sitdhiraksa N, Mintrasak E, Singhakant S, Sittironnarit G, Ratta-apha W, Saisavoey N, Pariwatcharakul P, Sanguanpanich N, Chaudakshetrin P. The prevalence of depression among the pain patients at the Pain Clinic, Siriraj Hospital. J Psychiatr Assoc Thailand2010;55(2)191-201
Chaudakshetrin P.Penserga, David Jeng-Shiang Lee, Shun-le Chen, Ranjit Singh Gill, Abdulbar Hamid, Kumthornthip W., Yi Liu, Meliala L. H Jusuf Misbach, Tan KH, Swan Sim Yeap, Yeo SN, Hsiao Yi Lin. Current Considerations for the management of musculoskeletal pain in Asian countries: a spesial focus on cyclooxygenase-2 inhibitors and non-steroid anti-inflammatiobn drugs. International Journal of Rheumatic diseases 2012: 08 15(4): 341-7. 1756-185X
ความเชี่ยวชาญทางด้านภาษา
คำสำคัญที่เกี่ยวข้อง
ปวดมะเร็ง องค์กรณ์อนามัยโลก 2523
ตำรา ปวด เล่ม 1 & 2. สำนักพิมพ์ผีเสื้อ 2545
IASP Laison for Developing Countries
ASEAPS 2011
IASP Pain Management Camp 2011
Honorary Member of IASP 2011
08.00 - 16.00 Pain Center
08.00 - 16.00 Pain Center
08.00 - 12.00 ศัลยกรรมกระดูกและข้อ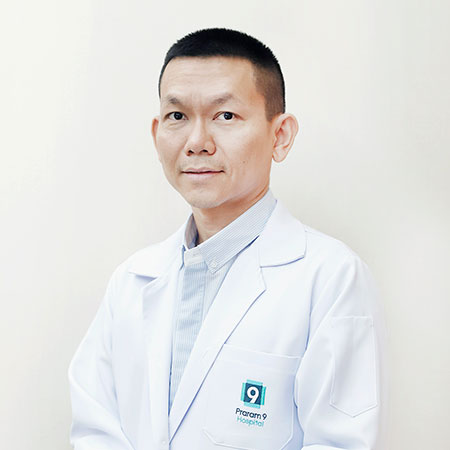 [B] สถาบันรักษาความปวดและสร้างเสริมความเข้มแข็ง (Fix & Fit)