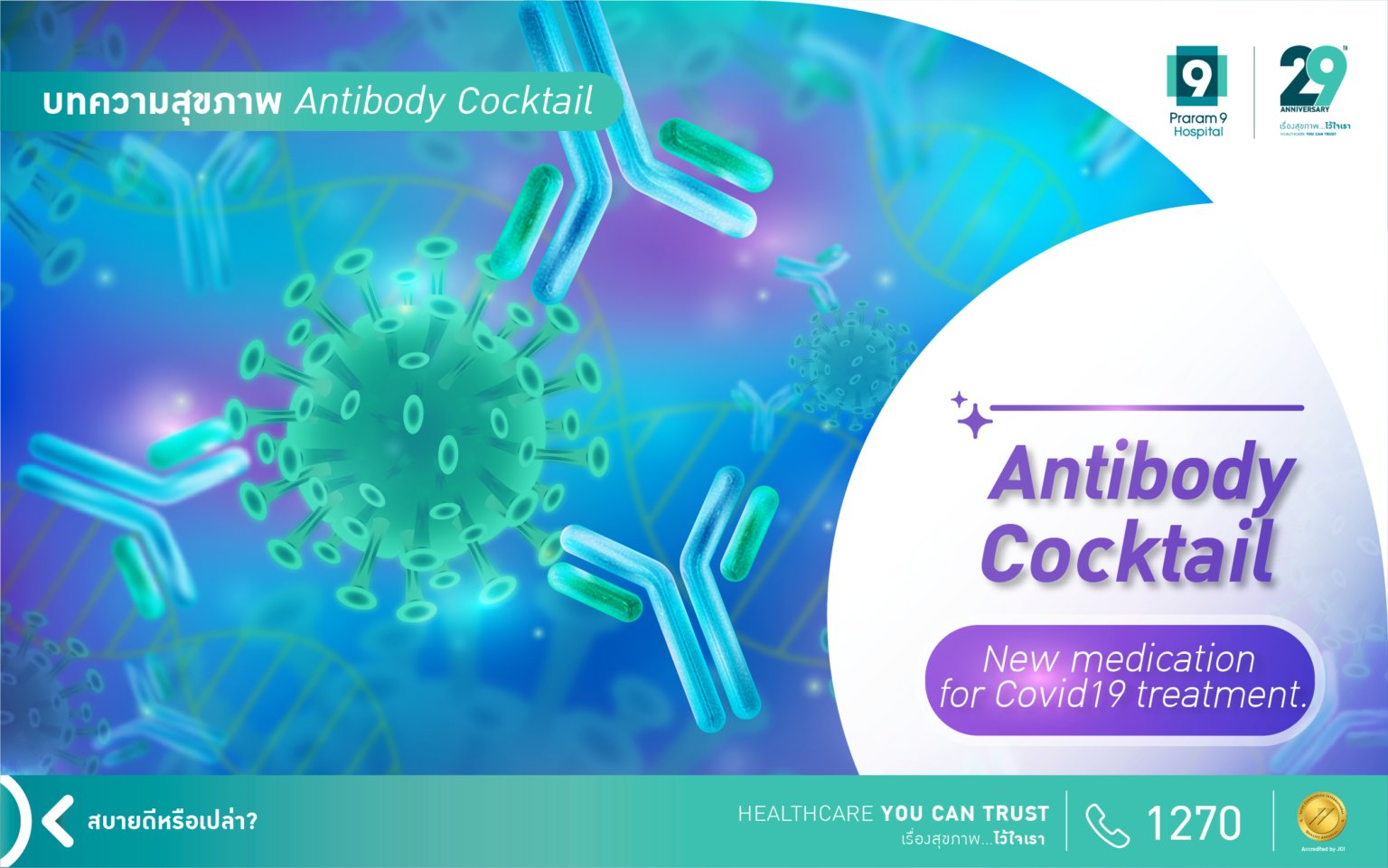 The Antibody Cocktail (also known as Regeneron or Regen-Cov) is a novel treatment for COVID19 infection. It has been approved in many countries including USA, India, Japan, England and Thailand.
In July 2021, The Thai FDA has issued an emergency use authorization (EUA) for the antibody cocktail (casirivimab and imdevimab) to be administered for the treatment of mild to moderate COVID-19 in adults and pediatric patients (12 years of age or older weighing at least 40 kilograms [about 88 pounds]) with positive results of direct SARS-CoV-2 viral testing and who are at high risk for progressing to severe COVID-19. This includes those who are 65 years of age or older or who have certain chronic medical conditions.
The antibody cocktail of casirivimab and imdevimab significantly reduced the risk of hospitalisation or death by 70% according to the REGEN-COV™ Phase III trial. This could be a specific and novel treatment to prevent COVID19 pneumonia progression and death.
INDEX:
What is "Antibody Cocktail"
Antibody Cocktail or "REGEN-COV" is a cocktail of two monoclonal antibodies (casirivimab with imdevimab) that was designed specifically to block infectivity of SARS-CoV-2, the virus that causes COVID-19. The antibodies bind to the critical receptor binding domain of the virus' spike protein, which diminishes the ability of mutant viruses to escape treatment and protects against spike variants such as Delta and Epsilon, which have arisen in the human population.
What is the difference between "Antibody Cocktail", favipiravir and COVID-19 vaccines?
The Antibody Cocktail is a specific treatment for COVID-19 while vaccines aim to prevent infection for the general population.
Favipiravir is one of the drugs used to tackle COVID‐19. This drug is a derivative of pyrazine carboxamide, showing antiviral activity against a variety of RNA viruses. This drug was first approved in Japan for use in influenza treatment. It is not designed specifically for COVID-19 treatment. Favipiravir can induce viral clearance and contribute to clinical improvement but it is not shown to reduce mortality significantly whereas antibody cocktail is designed specifically to prevent disease progression. The antibody cocktail significantly reduced the risk of hospitalisation or death by 70% according to the REGEN-COV™ Phase III trial.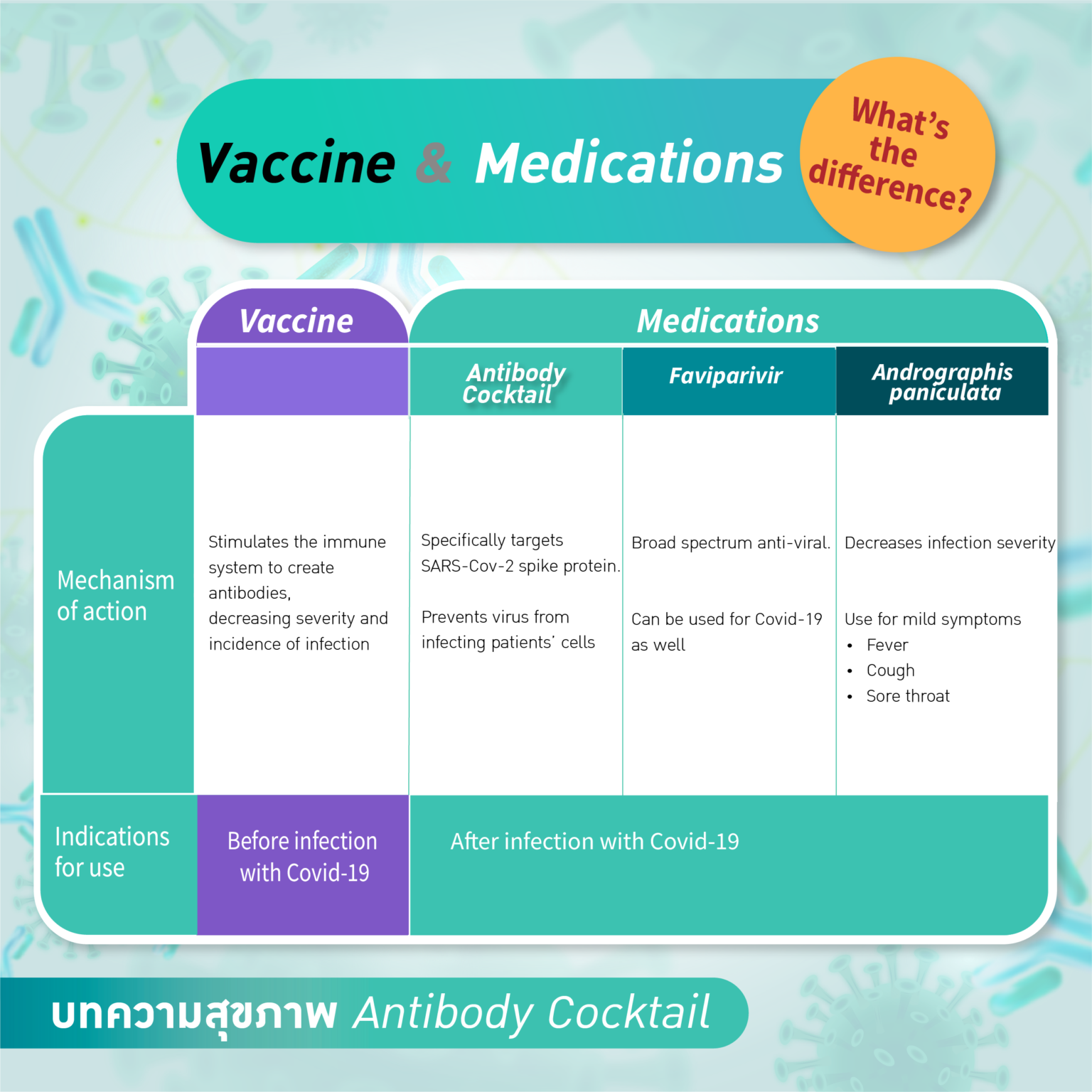 Andrographis paniculata, or fah-talai-jone in Thai, an Asian herb, is approved by Thai FDA to treat early symptoms and reduce the severity of COVID-19. There is a small pre-printed randomized controlled study that shows positive effects in reducing COVID-19 pneumonia and improving viral clearance. The antibody cocktail, on the other hand, is more globally recognized and shown positive effect in reducing death and hospital admission in high risk patients.
How does the Antibody Cocktail work?
Antibodies are proteins that the body naturally generates to defend itself against diseases. Monoclonal antibodies are antibodies that are artificially created in the lab.
Casirivimab and Imdevimab used in this cocktail are monoclonal antibodies that are specifically directed against the spike protein of SARS-CoV-2, aimed to block the coronavirus' attachment and entry into human cells. These two distinct antibodies bind non-competitively to the COVID-19 virus-cell surface and prevent the virus from infecting healthy cells.
SARS-CoV-2 Variants of Concern or Interest such as delta and epsilon also have susceptibility to Casirivimab and Imdevimab because these antibodies do not directly target the area of the spike protein which binds to ACE2 – a part of the virus which is thought to be likely to change or mutate –therefore this combination is more likely to keep on working even if the virus mutates.
Who Is Eligible to Receive Anti-SARS-CoV-2 Monoclonal Antibodies?
Casirivimab and imdevimab are administered together as a single intravenous infusion. The treatments are on outpatient basis. The treatment is available to individuals who:
Are high risk** for developing severe COVID-19 AND
Have a positive COVID-19 test and have not yet been admitted to the hospital AND
Are 12 years of age or older (and at least 88 pounds)
**High risk includes any of the following:
Aged ≥65 years
Obesity (BMI >30)
Diabetes
Cardiovascular disease (including congenital heart disease) or hypertension
Chronic lung diseases (e.g., chronic obstructive pulmonary disease, moderate-to-severe asthma, interstitial lung disease, cystic fibrosis, pulmonary hypertension)
Immunocompromised patients
Chronic kidney disease
Medical-related technological dependence such as tracheotomy, gastrostomy.
Reference: https://www.covid19treatmentguidelines.nih.gov/therapies/anti-sars-cov-2-antibody-products/anti-sars-cov-2-monoclonal-antibodies/
Difference between convalescent plasma and Antibody Cocktail
In convalescent plasma therapy, blood is isolated from a recovered patient who has developed humoral immunity against a particular disease-causing pathogen (e.g., SARS-CoV-2, in the case of COVID-19) and plasma containing specific neutralizing antibodies is obtained by apheresis for transfusion into diseased patients.
However, convalescent plasma exposes patients to a variety of risks, including transmission of blood-borne pathogens, volume overload, transfusion-related acute lung injury, and anaphylaxis.
Moreover, major concern with the use of convalescent plasma is that it is reliant on donations of plasma from enough people who have recovered from and generated a good, lasting immune response to Covid-19, with high levels of antibodies. Different people will have differing levels of immune response to Covid-19 (and their plasma may contain other components which could affect the health of the person receiving an infusion), so unlike a manufactured drug, this treatment is very difficult to standardise.
Antibody Cocktail Efficacy
Contraindication, precaution and side effects of Antibody Cocktail
Contraindication: Hypersensitivity to casirivimab or imdevimab.
Precaution: Children below 12 years of age, pregnant and lactating women.
Drug interaction: No serious drug interactions have been reported.
Signs and symptoms of infusion related reactions may include, but are not limited to, fever, difficulty breathing, chills, nausea, arrhythmia, headache, hypotension, hypertension, rash. This usually occurs within 1 hour after drug administration.
Reference: https://www.covid19treatmentguidelines.nih.gov/therapies/anti-sars-cov-2-antibody-products/anti-sars-cov-2-monoclonal-antibodies/
Summary
The Antibody cocktail is a novel and specific treatment for COVID-19. It is aimed for high risk patients who have mild to moderate symptoms to prevent disease progression and death. High risk patients include those whose ages are more than 65 years or have chronic illnesses.
High risk patients who are recently infected with COVID-19 should promptly consult our doctors for their eligibility to receive the Antibody Cocktail.