"No regrets after LASIK" You might have heard this from others, but you should experience this with your own eyes, with the aid of modern technology.
If you have abnormal vision, such as short-sightedness, long-sightedness, astigmatism and so on, you might worry about the need to constantly wear spectacles or contact lenses. This might cause some problems in your life and you might be looking for an answer.
LASIK is the solution that will help enable you to take the first step into a more carefree lifestyle!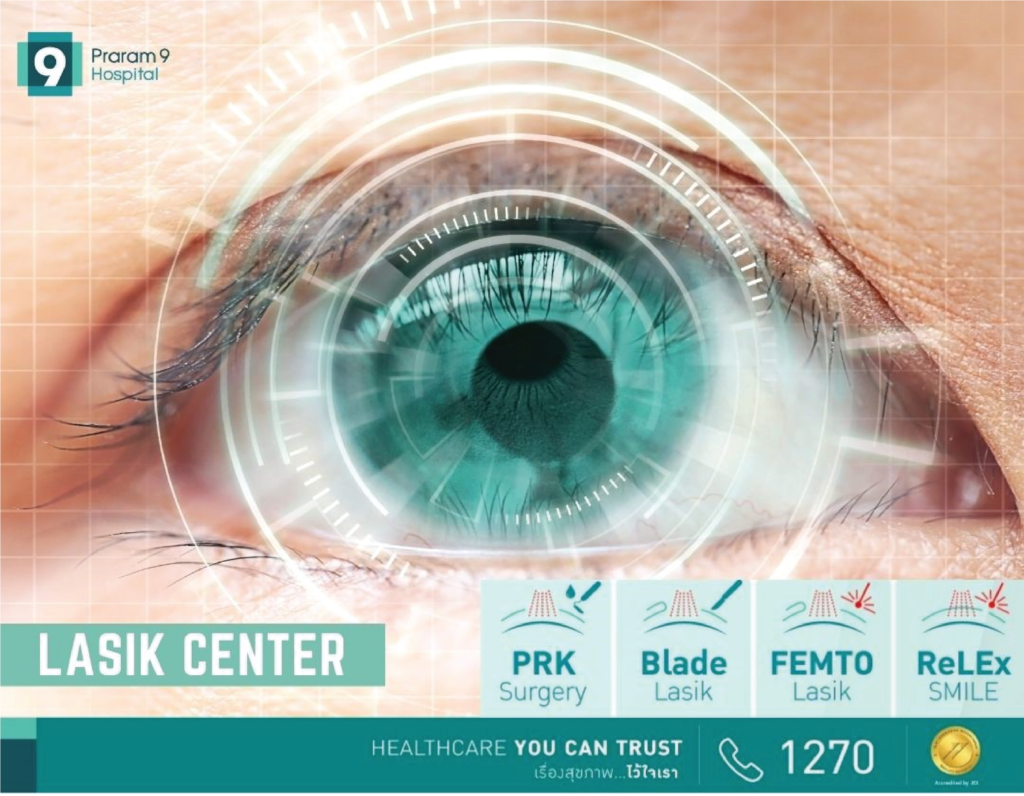 What is LASIK?
LASIK stands for Laser-Assisted In Situ Keratomileusis and is the name for laser vision correction. A laser will be used to reshape the cornea to the desired curvature, in order to correct abnormal vision such as short-sightedness, long-sightedness, and astigmatism.
How many types of LASIK surgeries are there?
There are 4 types of LASIK procedures that are popular nowadays:
PRK (Photorefractive Keratectomy) Correction of vision by reshaping the top layer of the cornea
LASIK Blade (LASIK) Correction of vision by creating a flap in the cornea
FemtoLASIK (FemtoLASIK) Correction of eyesight by creating a flap in the cornea with Femtosecond Laser.
Bladeless LASIK (ReLEx SMILE), correction of eyesight by creating a tiny incision.
Each of these procedures has their own pros and cons. This is why a very thorough eye examination is required, in order to choose the right procedure. We recommend that you consult an ophthalmologist in order to choose the most suitable treatment.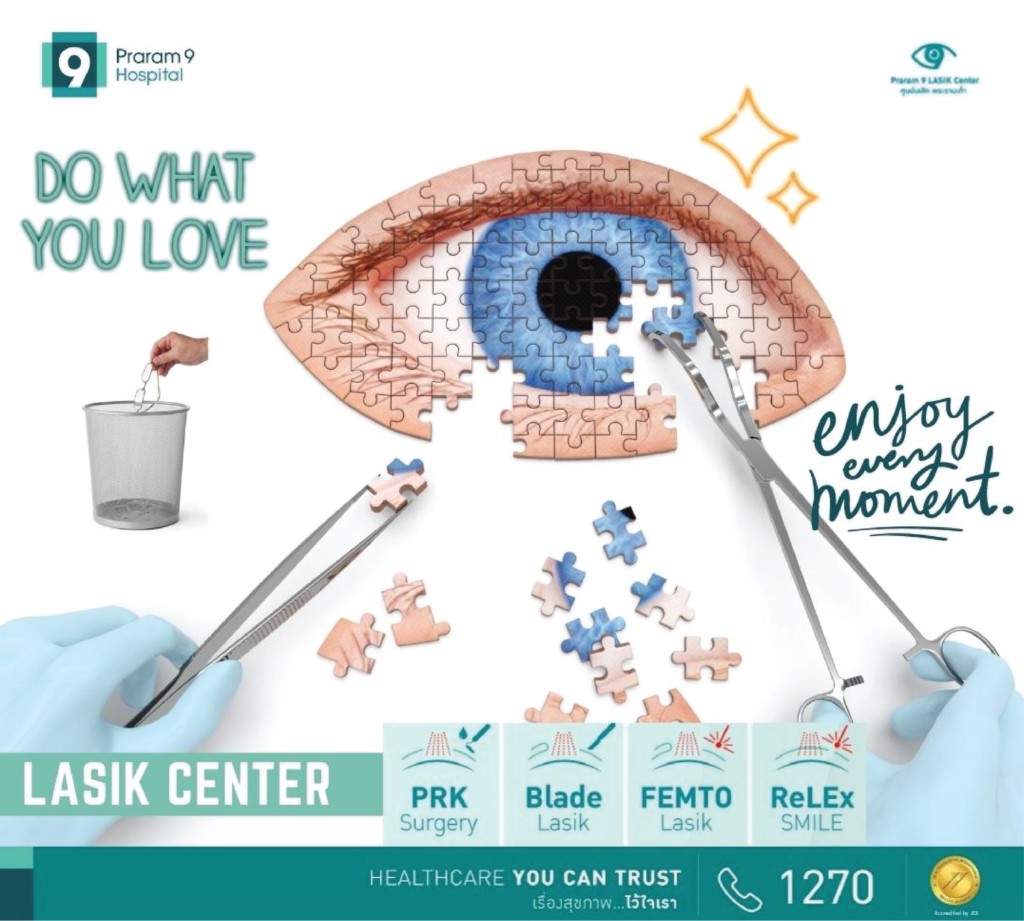 Who can do LASIK?
People 18 years and older
People with stable eyesight and changes in vision not more than 50 (0.5D) for at least 1 year, which will reduce the chances of myopia or astigmatism.
People who are pregnant or breastfeeding are not allowed. Please wait for 2 menstruation cycles to pass before considering LASIK
People who do not have existing corneal disease or other eye diseases such as macular degeneration, severe dry eyes, or other medical conditions that can affect wound healing (e.g. diabetes, SLE etc.).
People with thin or fragile corneas should not do LASIK.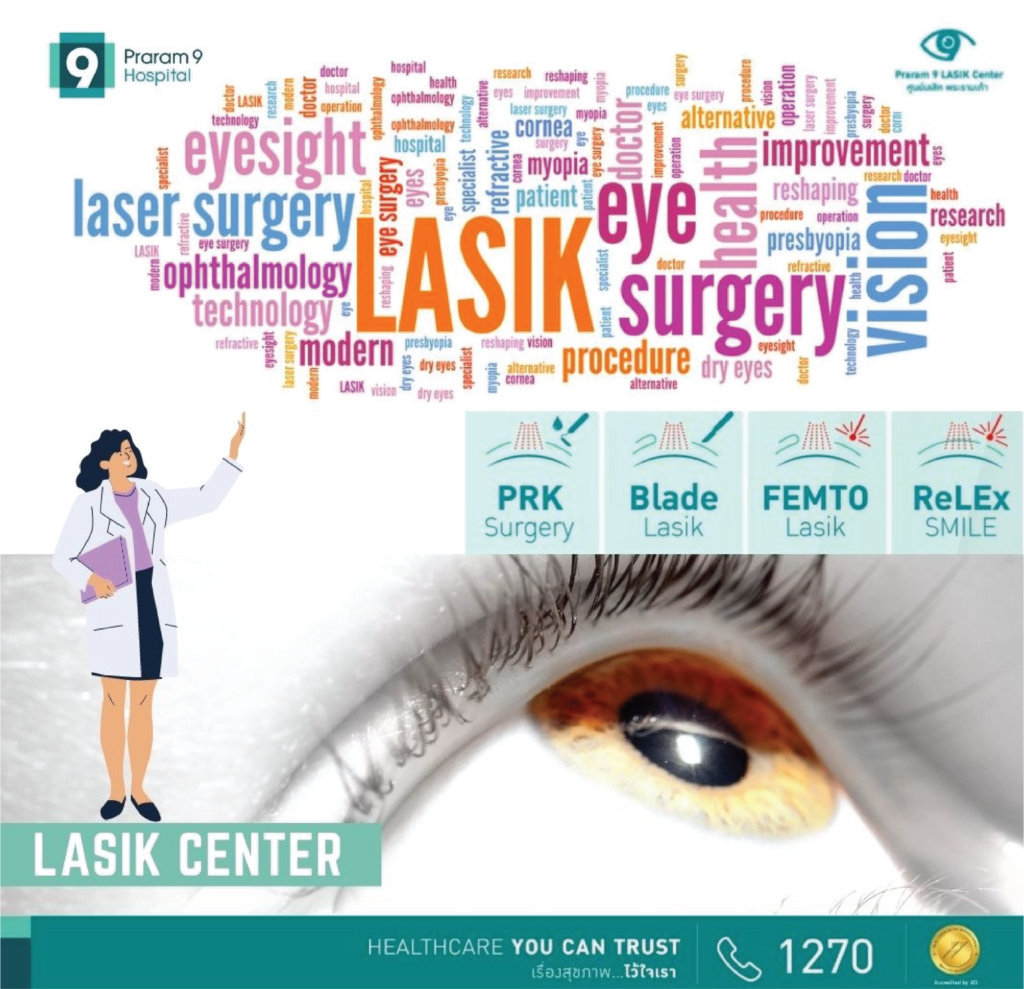 6 Reasons to choose Praram 9 hospital LASIK Center 
The hospital is maintained, clean and sterilized according to the Ministry of Public Health's standards, to ensure maximum patient safety.
Ophthalmologist specializing in cornea and refractive surgery, with extensive experience in caring for patients
Modern innovative technology from Germany will be used to correct eyesight
All 4 types of LASIK procedures (PRK, LASIK, FemtoLASIK, ReLEx SMILE) and intraocular lens surgery (ICL) are offered, allowing the ophthalmologist to choose the best treatment for patients
Holistic, comprehensive care for patients with different eye diseases (e.g. conjunctivitis, dry eyes, cataracts, glaucoma etc.) will be provided
A complete team of doctors and nurses with experience in caring for LASIK patients during the whole journey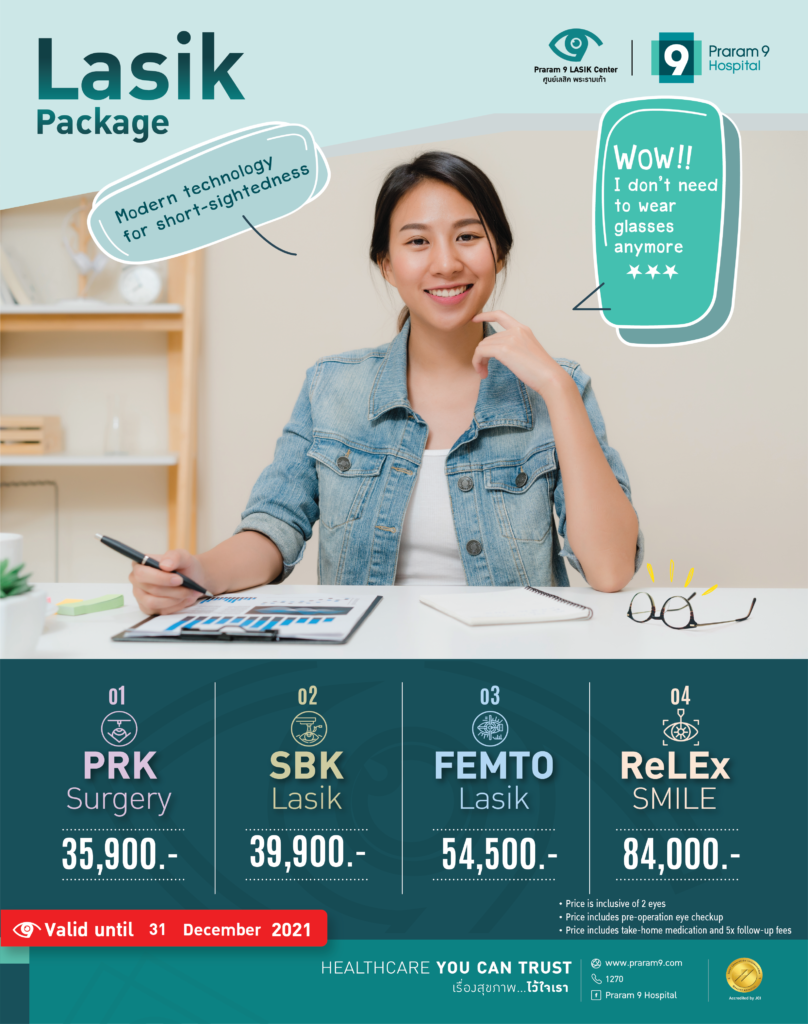 Learn more about package: http://praram-9-moderna-stg.i02ms7ouq4-pxr4kj5xv6gn.p.runcloud.link/en/product/lasik/
or Contact 1270 , LASIK CENTER